Home / Email marketing /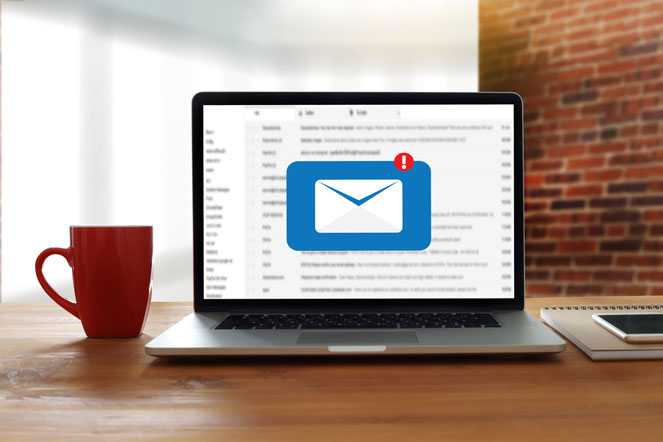 Everyone who runs an online business should incorporate email campaigns into their marketing strategy. It is the right practice no matter what type of business they have.
1. Thinking Email Marketing Is Dead
Email marketing worked well for a long period of time. Many smart inboxers have had the chance to build a fortune through email marketing.
However once the competition grew, many marketers started to follow the limiting belief of "email marketing is dead", which is nothing but a common misconception.
In fact, the essentials of email marketing are the same. One wants to be successful with it should provide massive value to their audience.
However, people used to get fewer emails in their inboxes in the past than today. More people involved in this business competition became harsher.
2. Not understanding the ROI of Email Marketing
Email marketing campaigns have an average of 3800% ROI. For every dollar invested in email marketing, an average return of $38 can be expected over a lifetime.
But is this number valid in every niche?
I don't believe this number an exact figure to be targeted in every niche. Although returns email marketers generate tells this type of return is entirely achievable.
Is the expected 3800% ROI is still realistic in today's market?
I don't know. Because I don't know your niche and the competition you have.
If you want to be successful in email marketing you should stand out from the crowd. People should wait for your next email impatiently.
How to achieve that?
You are the person who will be creative to come up with a mind-blowing advantage that your competitor can hardly think of.
Perpetual Income 365 is a plug-and-play affiliate marketing software created for all levels – newbies to advanced marketers, seeking to enable ordinary people who have zero internet experience to make a full-time income through affiliate marketing using our own plug-and-play system.
3. Not Using The Premium Quality Traffic Sources
I assume you have built your list with an opt-in form. Because the other ways are not the way one should pursue. I'll explain the reasons further in this post.
Even you have built a list with an opt-in form, not all signups are created equal. For instance, if someone reads your content and sign up to your list he probably is interested in your niche and what you want to share.
On the other hand, if you have purchased clicks from the Solo Ads providers, you basically entice people with your freebie without giving them a chance to know about you.
Don't get my word wrong. Udimi Solo Ads are a great way to build a list quickly.
My main point is the way you build a list really makes the difference.
An email list built by organic search visitors is far superior to a list built by Facebook Ads.
People who visit our landing page starting from a Google search are the ones genuinely interested in our niche. However, Facebook Ads traffic is interruption traffic and doesn't show clear intent for a niche.
Targeting to improve organic traffic coming to your website will improve the quality of the leads you add to your list. To receive consistent organic traffic from search engines you will need to benefit from the right SEO strategies.
4. Not using email marketing to mitigate inconsistent search engine traffic.
The most important aspect of every online business is internet marketing. They need to have a constant supply of visitors for their business to run smoothly.
However, search engine marketing by itself is not rewarding all the time. It has major pitfalls that can hold significant risks for businesses. Sources that have been providing our web traffic may change their opinions anytime in the future.
We all know how Google made overnight algorithmic updates that deteriorated many online businesses. Facebook as well made certain changes for their visitors not leave their platform. This resulted in having less Facebook traffic for many website owners.
5. You Don't Welcome Your Audience
It is an achievement to add new people to your email list. However, how you are going to build a relationship with people will define your success in this business.
Everyone likes to feel flattered every once in a while. Why not write a great welcoming email to tell them how much you feel honored by their participation in your list.
They took the first step and signed up to your list. You should be kind, sharing and most importantly genuinely valuing their existence in your list.
Never skip a warm welcome email to send your most recent subscribers!
If you don't contact people right after they get into your list, they will not remember you once you wanted to promote a product or service.
Also, welcome emails have the highest open rate which makes them another great opportunity to present ourselves.
6. Blasting Subscribers With Pushy Emails
People who don't have much experience in the email marketing sphere tend to send bulk emails in a short time without people's consent. I am talking about the cold emails sent to people who didn't opt-in to a list.
There are many problems sending cold emails to people. At first, no one likes to receive such emails. Would you like to see random emails from unknown people in your email box?
It is definitely irritating for all people. But the ethical part is not the only concern. It is illegal blasting emails in most countries around the world. No reputable autoresponder company will let you do that. If you do so, you will find yourself kicked out from their platforms possibly a lifetime.
Sending unsolicited emails is strictly prohibited by law since it is illegal. Also if you blast emails that are promoting affiliate products, affiliate marketing platforms like Clickbank or Jvzoo are going to cancel your account. Because sometimes people receiving unsolicited emails report spam complaints to the affiliate networks and product developers.
7. Thinking Email Marketing as a "bait and switch" marketing strategy
On the surface level, email marketing is collecting people's email addresses in exchange for a valuable lead magnet. The lead magnet is usually free material that has some worth.
Email marketers often think people as wild animals to be trapped. If they subscribe to their list then they can let the audience do whatever they want. This is absolutely nothing to do with the truth. Everyone who subscribed to our list is a unique individual.
You cannot use the lead magnet as bait and then switch to your essential purpose right away to suck up the money from the people. It doesn't work like that.
Having people in our email list should be having valuable guests in our world. They are not ATM machines but they are people we should help them by providing useful content. By doing so, we can build trust over time.
If they trust us, they will remove the barriers between and don't mind purchasing the stuff we recommend to them.
This is a proven email marketing path that works.
Most successful email marketers are the ones that can build empathy with their audience. They listen to what their audience wants by looking at the feedback. Later they can recalibrate their email marketing campaigns accordingly.
8. Not Offering A Clear CTA (Call To Action)
That is right you need to build a relationship with your list. However, the entire idea of email marketing is making money with the email list.
If you just share valuable content with a certain amount of promotion you may not be doing it efficiently. Once you build that relationship and trust with your list, you should be able to pull the trigger.
All emails you send should serve a clear goal of conversion. Hence a CTA is almost every time included in your email content.
To give some example,
Check out the latest post shows you XYZ.
Learn from the market experts to implement ABC.
Share with your friends now.
Reserve your seat for the webinar immediately.
A call to action together with a scarcity element works really well for most email marketing campaigns.
If you have built a solid relationship with your list people are likely to take your suggestion and will do what you ask them in your CTA.
Don't offer more than one CTA per email else you will confuse people with multiple suggestions. Your CTA should be clear, one action at a time command for your subscriber to execute.
9. Not maintaining the value over the lifetime of a campaign
If you look at most email campaigns they have set to send a certain amount of emails over a period of time. Day 0 there should be a welcome email, day 15 affiliate product promotion, etc.
Most of the times email marketers broadcast a few email newsletters promoting their own content. There are not really many valuable freebies offered after acquiring people's email addresses.
However, building a relationship is more important than building a list. It also requires more effort to invest.
Sharing valuable free stuff (not only your published content) is essential to keep your list satisfied. You should periodically bribe your list with the cool stuff that they would really appreciate to have.
10. Not Sending personalized emails
The number one best practice of sending personalized emails is collecting people's names together with the email addresses. Most people building lists tend to ignore collecting the names of the people.
Using the first name of our audience in the subject line makes our message more personalized immediately.
I feel more sincerity in the emails starts by calling my name. Although I know it is a computer-generated it still feels a warmer start for an email message.
The reason is more input required from a visitor less likely they commit doing it.
Hence, collecting names are often ignored. If you are collecting people's names together with their email addresses, you should definitely send them emails starting by their names.
It is provided as a standard feature in almost all autoresponder services.
Gender, location, birthday data are also very useful to further customize our emails if we have this information about our audience.
Engaging them based on their demographics helps make our emails to be more personalized and relevant to them. This will make them more likely to interact with what we offer.
If you are in eCommerce business abandoned carts are a good starting point.
Customers liked an item and placed it in their cart, but something stopped them. Sending a reminder email to inform them that the product they choose is still available is a great idea. It will help them remember if they missed it and encourage them to complete the transaction.
Similarly, you can also send related item emails to your audience that have made a purchase from you. You can recommend other products that may be interested in.
Sending emails like who purchased your product also purchased this other product is another great idea. In this way, we can recommend people complementary products that are closely related to what they have purchased.
11. Not Paying Attention To Sender Reputation
Your sender reputation is the #1 denominator that affects the deliverability of your emails. If you're not aware of your sender's reputation, you basically are unaware of your email marketing efforts.
Your sender's reputation is your sender's authenticity and credibility. It's a score that Internet Service Providers (ISP) give to determine if you're sending legit emails or spam.
12. Ignoring What Bounce Rates Data Shows
If an email you send bounces can be due to a temporary problem like a full inbox (soft bounce) or a more serious issue like a closed email account (hard bounce).
The best way to avoid this is to check your email lists periodically and delete those who haven't deliberately opened your emails. This will ensure that your email list consists of active subscribers, reducing your bounce rates.
13. Sending Large Volume Of Emails At Once
Blackhat email marketers blast many emails at once. If you send a large number of emails at once you essentially mimic what they do. Although your marketing campaign is legit, it may be perceived as it is not. Your credibility may be negatively impacted by sending multiple, meaningless emails in a short period of time.
Especially when sending first emails this is a bigger concern. When ISPs think large amounts of mail coming from a new IP address, they will begin a further investigation. To mitigate this, follow an incremental schedule to gradually prepare your IP address.
14. Not Keeping An Eye On Unsubscription Rates
If your unsubscription rate is more than the market norms, it should be an important concern for your email marketing campaign.
In such a case, you need to investigate the reasons people want to quit your list.
Most autoresponder companies let you ask the reason of why people leave your list. Use this information for your favor to rectify your email campaigns.
Assuming that your email content is on point, you want to ensure that those who subscribe to you are genuinely interested in knowing more about your brand.
Use a double opt-in all the time. Some autoresponder services will not even let you use a single opt-in to build your list.
A double opt-in allows the user to review their email and click a link for subscription authorization. That extra step will lead to a lower subscription rate but will ensure that people subscribe are really those who want to hear more from you.
15. Letting Emails Flagged As Spam
After reviewing your email statistics, it's time to re-examine your email content. Certain keywords or statements may be considered as common webspam by the algorithms. Fixing the problems that raise spam flags will prevent you from getting listed with the spammers.
Producing content that doesn't relate to your readers will make your emails notorious. If you repeat it frequently people will mark your emails as spam.
You should always tell your followers what content they should expect from you. Once you do that, you can focus on producing content related to that goal.
The best practice is to hint your subscribers what content you are going to publish next. By doing so, you not only raise the curiosity of your readers but also increase the open rate of your emails.
16. Ignoring what your market is about
Creating great content constantly that perfectly relevant to all your subscribers is a very hard task. Because you can't constantly ask your audience for feedback.
Let me show you what can be done instead.
Create personas that represent your potential target customer. If you do email marketing a while you should have an opinion who is your target customer is.
Crafting personas can help you create stories effectively. If you can tell good stories there are better chances to succeed in email marketing. Because your content can go beyond the surface level and talk to the feelings of the people.
You will need to combine statistics and psychographics of your customers to build a well-described persona. Audience demographics should provide you a deep insight into who they are by providing gender, marital status, employment status, age, income level, etc.
While less discussed, psychographics will clearly show you their value systems, beliefs, hobbies, and daily routines.
Creating customer personas based on demographics and psychographics can help you interpret what your customers really want.
17. Not understanding email segmentation
Once your customer personas are set, it is time to provide them the relevant content. However, it is not a "one size fits all" strategy you can set and forget. You need to readjust your personas by using the feedback from your audience.
You cannot force the people on your list to be the persona in your emails. Rather you need to create the persona most likely fit the audience you are communicating with.
People have different motivations subscribing to an email list.
Sending the same email to your entire list will turn off people from your content. If people are no more engaged with your content they are likely to unsubscribe.
Email segmentation becomes a very important tool at this moment. Segmenting your email list according to their interests will increase user engagement. An increased email engagement will maximize all your email metrics. Your emails will be opened, read more often.
18. Delaying Campaigns
List building is an ongoing process. There will be people who join your list while others unsubscribe to quit from your list.
A common mistake I notice email marketers make to postpone a broadcast email until their list reaches a certain size.
For instance, I am not going to send a broadcast email promoting Digitalocean Webhosting product until my list hit 2000 subscribers. This type of approach has multiple problems.
Firstly, there is never enough number of subscribers for any business. We always want to have a larger audience to maximize our profitability. Also, this will delay a potential profit to be made earlier but postpone to a future date.
If you have 100 subscribers only and you want to promote a certain product, do it right away. You can always exclude the people who received a particular email from you if you want to resubmit the same email to your list again.
In my opinion, If it is passed 6 months or more, you can send the same email to your entire list without even needing a filter.
19. Ignoring Mobile Devices
Only in an ideal world all people checking your emails on their desktop devices. People are moving and we are in the mobile era. People most of the time will open your emails on mobile devices.
If you ignore mobile conversions you leave a quite big chunk of profit on the table. Make sure you are using mobile adaptive email templates.
Always check how your emails look like on both mobile and desktop devices before you send an email.
In the above chart, you can see the mobile device use to check emails is dominating all other options.
As the best practice keep any paragraphs in your emails up to 3 lines maximum.
Single line paragraphs are absolutely fine.
A single line text on the desktop will appear like 3-4 lines on a 5-inch smartphone screen.
Using multimedia such as images and infographics are fine in your emails. However, always know the total size of the email you send.
Mobile connection is really slow compared with the home internet. If it takes more than a few seconds your email to open completely, people will bounce. This is the last thing you would want to happen since it is a lost opportunity for your business.
20. Sending Emails Don't Look Professional
Most email marketers make the mistake of not investing enough time for an email message. Because emails are usually a shorter copy compared with blog content they don't like to make research and proper planning.
You have to craft a plan in advance. Define the strategies you want to implement and write a copy that is useful for the reader.
Using an improper language, making grammar and punctuation mistakes in your copy will not leave a good impression on your subscribers.
If your reader thinks you didn't spend sufficient time to write a perfectly fine copy, they will get turned off from what you want to offer.
Always send your emails to yourself before you release them for your audience. Check it both from your mobile and desktop device how it looks. Proofread and fine-tune to super optimize it.
21. Not Prioritizing List Building
No matter how well your practice email marketing, if you don't write to a good number of audience you cannot be profitable.
Quality is important but the quantity shouldn't be ignored.
You need to use every opportunity to build the largest list of email subscribers in the shortest time possible. List building and maintaining a list are two different components of every successful email marketing campaign.
People nowadays are receiving email blasts of amateur marketers every day. They are not going to subscribe to a list without you provide them a good reason.
You have to think outside of the box to offer what is thought to be impossible to bring on the table. If other email marketers offer a pdf try to a video course.
Encourage people by offering coupons or discounts to sign up for your list.
We have summarized the most common mistakes email marketers make. Avoiding those mistakes can save email marketing campaigns time and budget.