Home / Blogging /
Instacart Tipping Explained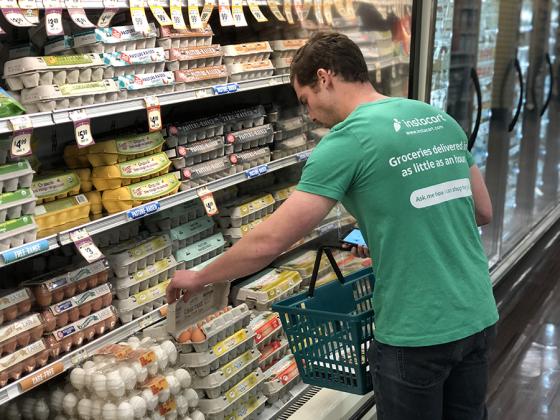 Instacart is simplifying our lives. You no longer need to leave your home to have your groceries at home. That is right, you can literally lay down on your living room sofa and order your groceries to be delivered under an hour.
Instacart system covers quite a large territory in the US, even more than Amazon Fresh, you can read my earlier post that I have compared two grocery delivery services.
Instacart is convenient thanks to the shoppers and delivery drivers that save you from doing the heavy lift.
However, are you really appreciating the help they offer?
Or do you believe they should do it anyway since you pay for your order?
We will talk about the Instacart tipping etiquette today. If you should tip the delivery driver, how much to tip, and even if they need your tips.
Instacart is convenient because someone else is doing the job you should do. A shopper grabs a cart places your items in the cart and delivers them to your door so that you don't have to.
You don't have to deal with driving to the store, wasting gas, or waiting in shopping lines. But the most important part you save your time to spend with the things you love, rather than spending it doing a boring routine. 
Check Your Credit Score
Instant Access to All 3 Credit Scores
>>Check My Score<<
However, you should show your appreciation to the person that makes your life easier even he/she receives a salary from the company. You do it by tipping the shopper that delivers your order.
Tipping an employee is more convenient today than ever. But, if you don't plan to do it you may have an awkward moment with the driver who is bringing your delivery.
You may still wonder if you should tip the driver or not.
What about other people, do they tip people on Instacart?
Let's find out.
Instacart shoppers make money by going shopping at local grocery stores and delivering them to the customer's homes.
They have flexible working hours, and they receive orders through the Instacart shopping app.
Should you tip people on Instacart?
Instacart shoppers appreciate your tips. According to the Instacart help center, shoppers consider it as a way of appreciating the excellent service they provide to your door. Also, your tip goes directly to the shopper that delivers your order.
Obviously no customer is forced and should feel obliged to tip someone. However, shoppers usually work for at or around minimum wage, and your tips really support them.
According to a study made by Glassdoor, Instacart shoppers make on average $11 give or take.
They also don't receive any help for gas, toll or parking from the Instacart. Most money they make depends on the tips.
I know your next question. Let's talk about it.
How much to tip Instacart shopper?
Here is a good Instacart tipping etiquette you can use:
A %5 percent tip is recommended by default at checkout, with a minimum suggestion of $2 per individual store delivery. However, a %10 to %20 is a decent amount without looking mean to the shopper. Don't tip less than $5 since this number looks like the minimum best amount. (The minimum tip should buy a Mocha!)
The ironic part Instacart shoppers cannot see you tip them if made during the checkout process. Shoppers cannot also see any notes before they accept an order. They will only see any notes left if you have left a tip.
Do you want to specifically let the shopper know you are tipping them?
Then prepare your cash to tip them when you receive your delivery at your door.